High - rich photovoltaic grade silicon nitride powder
High - rich photovoltaic grade silicon nitride powderGuimeng alloy is a kind of alloy metallurgical material. It is known to all that manganese plays an important role in the process of steelmaking by manufacturers. It contains manganese as an element in guimeng alloy.
Preparation method:
direct nitriding of silicon powder
Raw materials :
6N high purity silicon and nitrogen
Principle:
Si + N2 > Si3N4
Technical advantages:
In the absence of metal catalysts such as iron, the activation of silicon powder is also easy to nitride. The metal impurity content is very low, the reaction of precise ratio of multi-particle size of raw materials has strong controllability, and the impurities introduced in the multi-stage purification and purification process are effectively removed to ensure the purity of the product.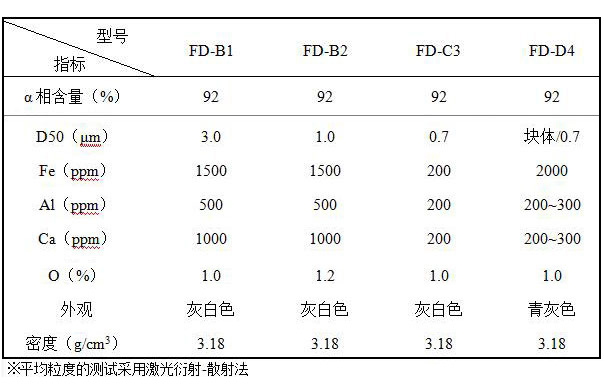 Product brand
:FD4N
Typical granularity :
D50 1.2um
Product features:
high temperature resistance, corrosion resistance, high thermal conductivity, small expansion coefficient, high temperature oxidation resistance, narrow particle size distribution, good stability, gray, non-toxic and tasteless.
Main applications:
quartz crucible coating for polysilicon ingot casting (release agent), LED phosphor Main applications: photovoltaic industry and other high-end technology industry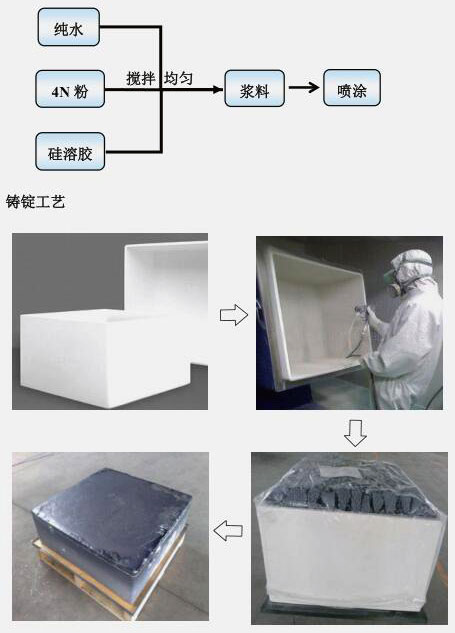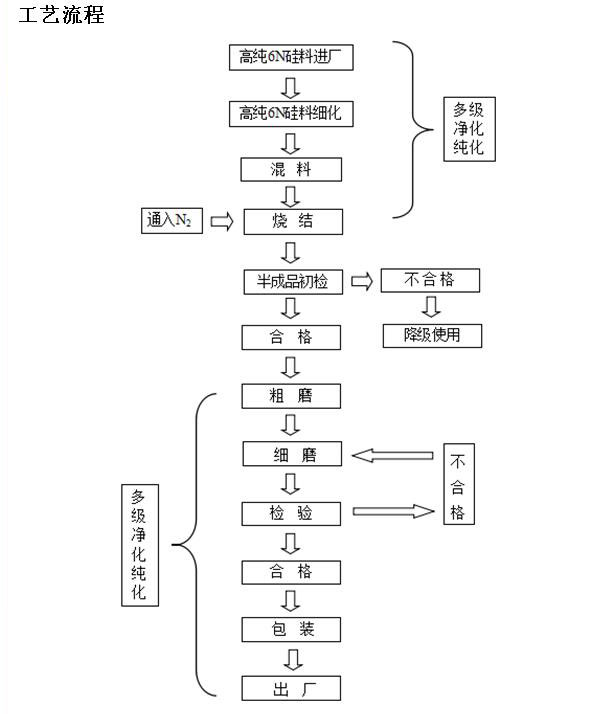 Photovoltaic grade silicon nitride powder production strictly requires dust-free environment, to ensure product quality. Currently, the company has been authorized five utility model patents, three software Copyrights applied for five invention patents.
Purity:
The introduction of iron, aluminum, calcium and other harmful impurities in the process of polycrystalline silicon ingot casting will seriously affect the resistivity and the life of the silicon wafer, so the content of impurities in the silicon nitride coating must be controlled below a certain level.
The following is the powder test data:

Particle size and distribution:
Photovoltaic grade si3N4 powder particle size data is provided by Eurogram laser particle size meter.
The following figure shows the particle size distribution of our powder: